Tools
If the doors are not installed by a licensed installer that they can no longer be defined as security; SWH strongly recommend any and all installations be carried out by our staff which you can find the service on our website or any other fully licensed installer.
You will need:
Cordless Drill
3 mm Drill Bit
5/32 Drill Bit
Phillips Screwdriver
Hacksaw
Pop Rivet Gun
Method
1. Sliding the door
When you install a sliding door it is important to align top rollers to the top track first. Then lift the bottom rollers up on to the bottom track. Slide back and forth to make sure that you have rollers correctly on the track.
With a Phillips head screwdriver adjust roller screws (1.1) located on the back inside of the door. Start with the bottom rollers adjusting them only to align the door square with the closing channel. Once the door is aligned then adjust top rollers down, only enough to take up and down movement out of the door. Test this frequently as you adjust them as over adjustment may cause excessive pressure on rollers, which may damage them.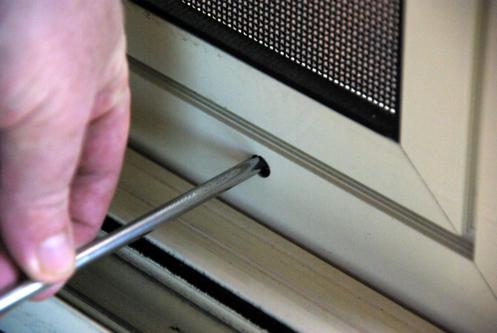 1.1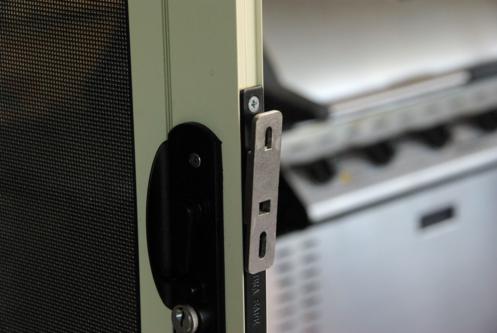 1.2
2. Installing the lock
Once the correct roller adjustment is achieved, roll the door back and forth several times to allow them to bed in correctly. From the outside position with the lock striker receiver mounted in the lock (1.2), roll door into the closed position and mark side, top, and bottom of striker receiver (1.3) as it sits in the receiving channel. Remove receiver striker (1.4) and line up to the marks. Drill the top hole only in the centre of elongation with a 3 mm drill bit. Now fix the striker receiver to the receiving channel and adjust accordingly. Once the lock has been tested and is functioning correctly then drill and install the bottom screw.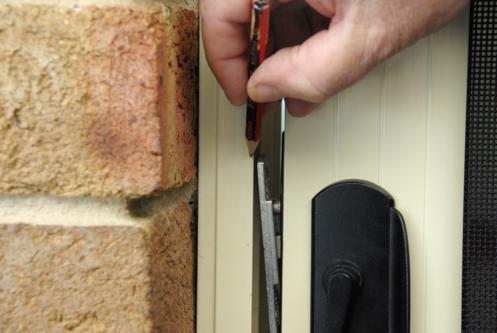 1.3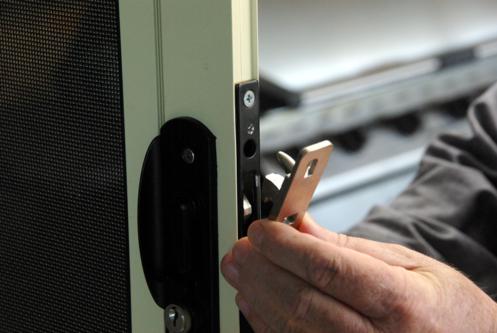 1.4
3. Installing the Frame Interlock
Put the door in the closed position. The back of the door should be approximately 5 mm over the fixed glass panel receiving interlock. Place the frame interlock provided on the back of the door so it fits into the fixed glass panel receiving interlock. Using a 5/32-drill bit, drill and pop rivet the frame interlock with the rivets provided. Slide back and forth to ensure correct function. In some cases it may be necessary to adjust length the of frame interlock, this can be done with a hacksaw.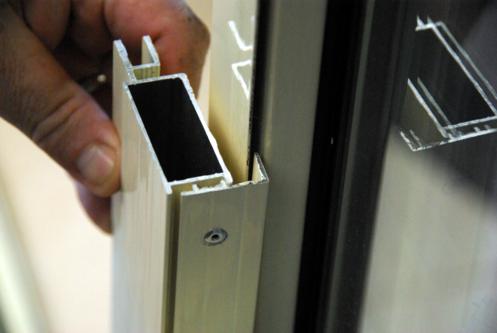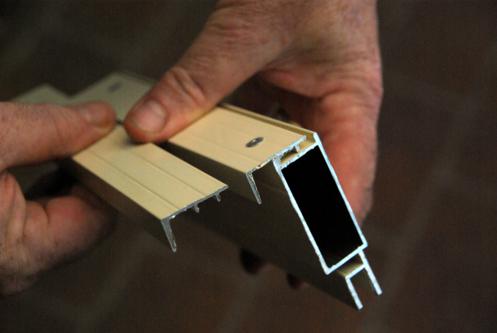 4. Fitting the Bug Seal (If required in place of frame interlock)
Put the door in the closed position. The back of the door should be approximately 5 mm over the fixed glass panel. Place bug seal with brush hair facing the glass on the fixed glass panel. Make sure that you centre the seal so it misses top and bottom tracks. Drill and fix with 3 mm drill bit and pop rivets provided (1.5).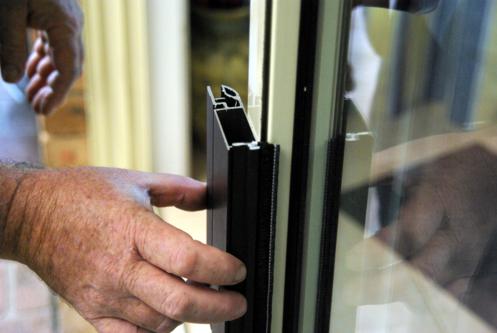 1.5